Hotels in Tanjore with Library
Guests in recent times have started warming up to the idea of having a Library in their hotels. Those wanting to work on a presentation or wanting to chart an important graph can do so in peace.
Super Saver deals on Hotels in Tanjore with Library
We have handpicked the Best 1 hotels in Tanjore with Library See 1 hotel
Featured Hotels with Library
Featured Hotels in Tanjore with Library picked by Travelguru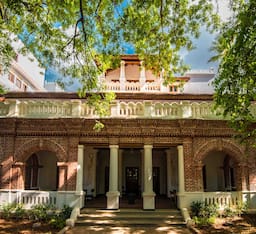 Book before 3 days and save 15% on each night
Hotels in Tanjore with Library
Hotels are recently electing this idea as it gives the guests a chance to congregate instead of staying in their room. The Library of hotels in Tanjore pose as a lovely haven for the avid reader. It may not be fancy or particularly extensive, but book lovers and history buffs or others, may like the fact that they can pick up a copy of Pride and Prejudice or a vintage, leather-bound volume and sit on the tufted couch to flip the pages. There are a number of hotels offering this amenity in Tanjore. It is being observed that the trend isnt limited to luxury hotels or sleekly designed boutique properties. Now guests can snuggle up with a book issued from the library in Tanjore while letting travelguru worry about their bookings.
Nearby Places of Interest :
Hotels with Other Amenities in Tanjore: